Zabytkowy budynek koszar na olsztyńskim Zatorzu dziś jest niepowtarzalną przestrzenią, gdzie pierwsze skrzypce grają biznes i ludzie.  Jednak, zanim stał się on stylową, historyczną oprawą dla nowoczesnych przestrzeni biurowych, potrzeba było wiele czasu i determinacji dwóch osób.
Agnieszka i Tadeusz, właściciele Koszarów Funka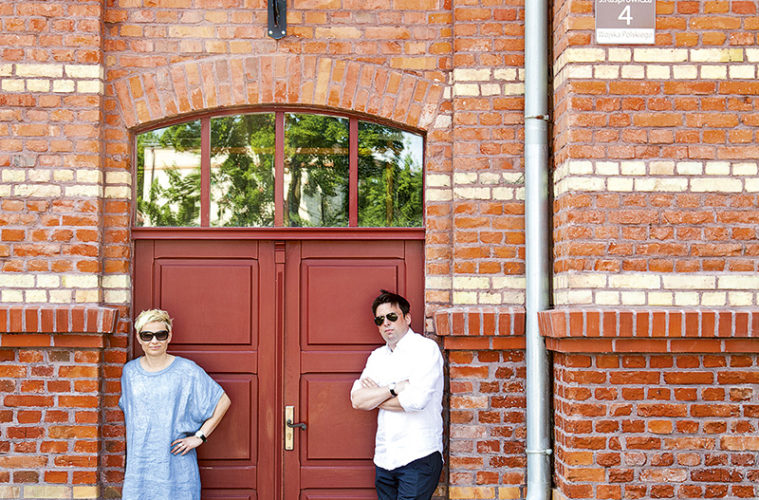 Pierwszy rzut oka… i zakochaliśmy się w nim. Ujęła nas piękna bryła z czerwonej cegły. Neorenesans toskański w stanie rozkładu. Takim, że bałam się wejść do środka. Wsadziłam tylko głowę przez drzwi, zobaczyłam zawalony strop, zaciągnęłam się wilgocią i przytaknęłam mężowi: ratujemy!
Agnieszka – psycholog społecznym, w Koszarach Funka prowadzi swoją firmę – agencję badawczą i na co dzień współzarządza Koszarami. Tadeusz,  historyk i archeolog z zawodu, przeprowadził proces konserwacji i adaptacji tego szczególnego zabytku. Uroki Warmii poznał poprzez  pracę badawczeą na Uniwersytecie Warszawskim oraz w Krajowym Ośrodku Badań i Dokumentacji Zabytków.
Szukaliśmy z żoną miejsca, w które moglibyśmy zainwestować i otworzyć nowy rozdział w życiu, łączący nasze pasje i zawody. Rozwijający się Olsztyn, ciekawy pod względem historii i zabytkowej architektury, przyciągnął nas swoim potencjałem. Trafiliśmy na 120–letni budynek koszar i rozpoczęła się przygoda, której przyświecało jedno – nadać mu drugie życie.
Z kart historii…
Cofnijmy się do lat 90. XIX wieku.  To wtedy dwóch inwestorów, Andrzej Funk i Florian Materna, wybudowali na potrzeby wojska budynek sztabowy przy późniejszej Tannenbergstrasse, obecnie ulicy Kasprowicza. Urzędował tam batalion fizylierów ze Szczytna, który wchodził w skład 4 Wschodniopruskiego Pułku Grenadierów im. Króla Fryderyka II. Dokładnie 100 lat później, pożar strawił dużą część budynku, który przez kolejne lata popadał w ruinę. Tak o nim pisał Rafał Bętkowski znany propagator historii regionu: to "Ceglany świadek" – ostatni ocalały, w stanie nie zmienionym, fragment koszar Funka (…). Tylko ten obiekt może dać jeszcze wyobrażenie o tym, jak wyglądał cały wzniesiony niegdyś przez Andrzeja Funka zespół koszar (…) Należy on do tych materialnych świadectw historii naszego miasta, które przekazać winniśmy przyszłym pokoleniom.
Włożyliśmy wiele serca i wysiłku w rewitalizację budynku koszar. Od początku dbaliśmy o to, aby każdy szczegół był zgodny z pierwowzorem historycznym, chcieliśmy zachować jak najwięcej odniesień do oryginalnego charakteru. Jesteśmy dumni, że dziś wygląda tak jak w końcówce XIX wieku.
Szukając archiwalnych materiałów, trafiliśmy m.in. na pamiątkowe fotografie stacjonującego w koszarach 151 Pułku Piechoty z 1900 roku. W zrujnowanych wnętrzach zawieruszył się nawet sztandar niemieckich skautów. Budynek odkrywał przed nami kolejne karty historii.
Na podstawie nielicznie zachowanej ikonografii Koszarów Funka odtworzyć się udało wiele detali wnętrz. Czarno-biała mozaika podłogowa, tynki i oświetlenie. Fragmenty dobrze zachowanej cegły i część oryginalnej stolarki okiennej. Podziwiać okolicę możemy przez ponad stuletnie okna.
Koszary Funka – dziś
To wszystko, czego potrzebuje Twoje biuro w jednym miejscu – komfort i wygoda, kameralne biura i nowoczesne przestrzenie biurowe, sale szkoleniowe i konferencyjne, kawa w "koszarowej kuchni", networking w praktyce i wiele więcej. Wszystko w historycznych murach, otoczeniu wyszukanego designu i oryginalnych dzieł sztuki.
Gdy przekracza się próg budynku, czuć zapach świeżego drewna. Trudno oprzeć się wrażeniu, że ta przestrzeń, naznaczona historią, zwyczajnie inspiruje, daje kopa do działania.
Szukamy ludzi, którzy razem z nami chcą tu pracować i tworzyć. To 120-letni budynek z awangardową duszą i chcemy, aby korzystali z niego ludzie z inicjatywą, by było to otoczenie sprzyjające ludziom i ich biznesom.
Być może Koszary Funka oczarują również Ciebie i wybierzesz to niezwykłe miejsce do rozwijania swojego biznesu. Porozmawiajmy o ofercie, która będzie dla Ciebie najlepsza.